As of April 1, 2018, the International Friends of the Tsoknyi Lineage Nuns now represents both the Tsoknyi Lineage Nuns of Nepal, as well as the Tsoknyi Nangchen Nuns of Tibet on Rinpoche's behalf. These website pages about the Tsoknyi Lineage Nuns are posted and archived here for your knowledge and historical reference.  Current events and programs concerning the nuns can be found at www.tsoknyinuns.org.  Making donations to the Nuns as well as requesting the Gift of Prayers can also be found on the www.tsoknyinuns.org website. Please visit their website for up to date information.

Information on the Tsoknyi Lineage Nepal Nuns that has appeared on this web page below for the past several years will remain here for your continued enjoyment, but please bookmark www.tsoknyinuns.org on your system to stay current with the latest news of the Nepal and Tibet Nuns.

Rinpoche has many nuns under his care in Nepal, where he grew up and currently lives. Nuns who journeyed from Tibet to Nepal on foot now live and practice in a new retreat setting in Chobar. In Tsoknyi Gargon Ling Abbey, nuns who recently struggled to maintain their tradition due to extreme poverty and dilapidated conditions now thrive, spending half of the year studying Buddhist scriptures and language in the Kathmandu Valley, and the other half alternating between retreat in the valley and service in Muktinath. 
Here is a beautiful YouTube video for you to enjoy and learn about the Nepal Nuns, called "Prayers in Motion."
All self-centered thoughts limit our vast mind. When we have no thought of achievement, no thought of self, we are true beginners. Then we can really learn something. The beginner's mind is the mind of compassion. When our mind is compassionate, it is boundless.                                                                                                                                                                                                                                    ~   Suzuki Roshi
Tsoknyi Gargon Ling Abbey and Clinic (mustang, nepal)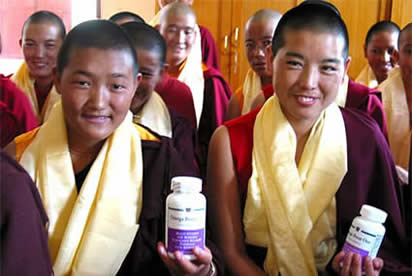 The Tsoknyi Gargon Ling Abbey and Clinic in Mustang is a classic example of the power of faith and trust. Located near the ancient pilgrimage site of Muktinath, the Abbey has been in existence for at least 300 years. Nearly 60 years ago, a devastating fire destroyed the Abbey, leaving the nuns without a home. These nuns struggled to maintain their nunnery without the guidance of a spiritual head or any basic material support. Despite these difficulties, they prayed daily as best they could in their shrine room, which was rapidly disintegrating. Hearing of a great Tibetan lama of their own lineage, three senior nuns walked hundreds of miles over mountainous terrain to Kathmandu in 1991 to request the spiritual and material help of Tsoknyi Rinpoche.
Rinpoche's first visit to Tsoknyi Gargon Ling led to the immediate construction of 10 small rooms. Since then, their nunnery has been repaired and enlarged, and the nuns were able to perform a full Buddhist ritual practice for the first time. Twenty young girls were ordained and joined the community. Today, the 51 nuns divide their time between Kathmandu and Muktinath. Also, a health clinic was constructed that serves the nuns and the local community. This year, a new large shrine hall is being constructed.
Chobar Anis (chobar, nepal)
In 1999, a group of nuns from East Tibet (also having practiced for decades without a spiritual guide) walked from Eastern Tibet to Kathmandu to meet their guru, Tsoknyi Rinpoche. Upon their arrival, Rinpoche established the Gebchak Changchub Nuns Meditation Retreat Center in Pharping, a small village just outside the Kathmandu valley. Here, he created the opportunity for 23 nuns to complete a strict three-year retreat in a farmhouse. The nuns practiced just as they did in Tibet, sitting in meditation all day, and practicing dream yoga throughout the night. Now with approximately 100 young girls from Nubri, Nepal, there are about 125 nuns in the community. For a variety of reasons, the retreat center has recently relocated to Chobar, which is a short drive from Kathmandu.
Click here to Give the Gift of Prayers for your loved ones and yourself! The Anis of Chobar or Tsoknyi Gargon Ling will include the prayers you choose in their daily practices.